Which Survey?
Having taken the decision that it would be wise to have a survey carried out, the question invariably arises as to which type of report is appropriate, either a RICS Homebuyer Report or a full building survey. There are no hard and fast rules, but some general guidance might be helpful.
The difference between a Homebuyer's Report and a full building survey
What's included in a RICS Homebuyer Report?
As a rule, RICS Homebuyer Reports are for more modern properties of conventional construction that simply need an 'MOT'. The report gives more detail than a basic Mortgage Valuation, but less than a full building survey.
A Homebuyer Report will help you to find out if the property has any urgent structural problems such as damp or subsidence, as well as any obvious defects inside or outside that have a substantial effect on the value of the property. Your Homebuyer Report can include a component for valuation and reinstatement costs, but this is optional.
RICS Homebuyer Reports include all the major visible elements of a property, but they don't look at the property in the same detail as would a full building survey.
Get a no obligation quote for a RICS Homebuyer Report
What's included in a full building survey?
Although the inspection for both types of surveys is the same - there can be no such thing as a 'lesser' inspection - a full building survey gives you more information. Full building surveys (previously known as structural surveys) are a much more wide-ranging inspection of a property, resulting in a detailed document evaluating the condition of the property. The report will identify any defects, their likely cause, how urgently they should be attended to and suggestions to put things right. The report may also include an estimate of the cost to repair the defect.
Building surveys are more appropriate for:
Older properties
Properties which are in poor condition or require renovation
High value properties
Listed buildings
Buildings of non-standard construction
Properties which have previously undergone significant alterations
Get a no obligation quote for a full RICS Building Survey
Certainly, we would be reluctant to carry out a Homebuyer Report on any property built before 1930, but even after this date, the full building survey is always the preferred option, with the difference in cost between the two reports is usually not significant.
Comprehensive photo coverage
Both types of survey include photographs, which you will find useful as both supporting documentation for your report, and to help you visualise any issues that are mentioned. The Homebuyer Report is limited to 12 photos, whilst the Building Survey usually includes many more (and up to 50 photographs is not unusual).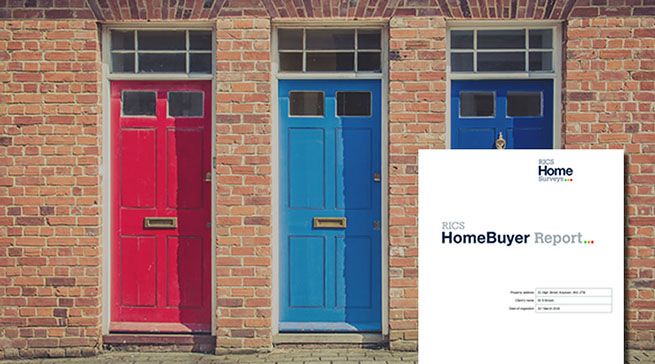 RICS Homebuyer Report
Homebuyer Reports are for more modern properties that just need an 'MOT' rather than something as extensive as a building survey report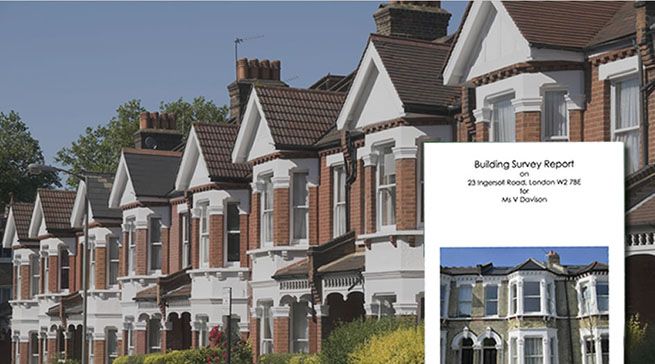 Building Survey Report
Full building survey is a very detailed document, more appropriate for properties that are older, in poor condition or of high value.
Do you need our services? Contact us by email or telephone 07711 491000 for a free, no obligation quote.